OCTOBER 13 – 16TH
09:00 H LIMA
The ILC LAC organizes from October 13 to 16TH the XI LAC Forum "Inequality in Latin America and the Caribbean: impact and proposals for land Governance". The Forum seeks to promote exchange and generate connections to face the inequality which characterizes the region and places it in the first place of land access inequality worldwide.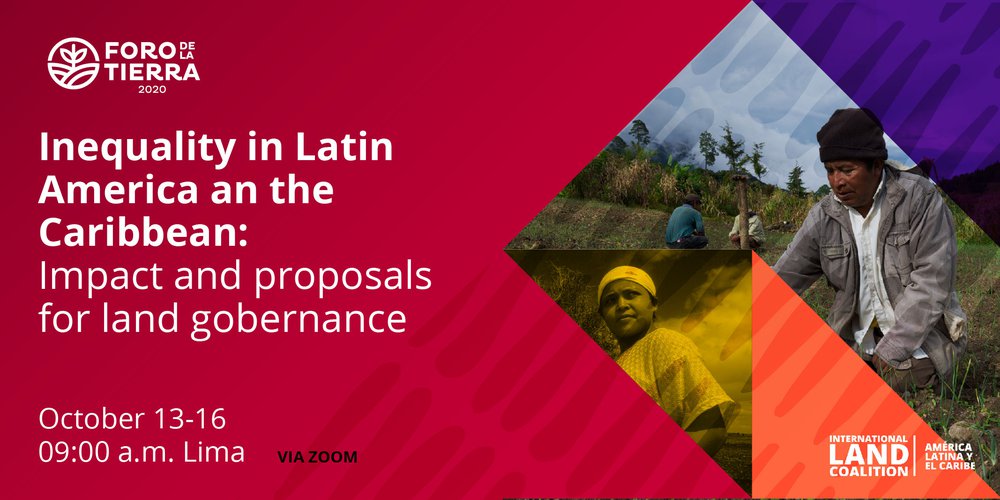 DAY 1. INEQUALITY AND IMPACTS ON RURAL POPULATION
INAUGURATION AND WELCOME TO THE LAND FORUM
-09:00 - 09:30
- Welcoming remarks:
Michael Taylor - International Land Coalition Director
Rossana Polastri - Director of Latin America and the Caribbean Division IFAD
Patricia Chaves – Regional Committee representative ILC LAC
Moderator:  Zulema Burneo –Regional Coordinator "International Land Coalition LAC"
INEQUALITY AND IMPACTS ON RURAL POPULATION
-09:30 Presentation of panel and moderation: Judith Flores, Research System on Agrarian Problems in Ecuador (SIPAE)
-Introductory presentation: Inequality and alternatives for rurality in Latin America. Michel Merlet, Expert in land governance of natural resources, AGTER
-Panel discussion
Alberto Broch – President of Mercosur Confederation of family farmer Organizations (COPROFAM)
Neydi Juracán – Altiplano peasant development Committee (CCDA in Spanish) of Guatemala and Rural youth working group ILC LAC
Melania Canales – Continental Liaison of Indigenous Women of the Americas (ECMIA in Spanish)
Gregorio Díaz Mirabal – Coordinator of the Coordinator of Amazon Basin Indigenous Organizations (COICA)
-Questions and answers
-Closing and Conclusions: Fabiana del Poppolo, Chief Demographic Analysis and Population Information Area, CECLAC
DAY 2. DEFENDING LAND AND NATURE: PROTECTION AND RESISTANCE IN TIMES OF COVID
-09:00 Panel presentation and moderation: Paula Berrutti - Human Rights Officer of the United Nations High Commissioner for Human Rights Regional Office for South America
-Presentations:
Regional overview of land and environment defender's situation. Marina Comandulli, Global Witness
Defenders in times of pandemic- Wilmer Vanegas, Organizations of Displaced Population (OPDS in Spanish) Montes de María, Colombia
Women defenders and extractivism - Ruth Alipaz, National Coordinator for the Defense of Peasant Native Indigenous Territories and Protected Areas (CONTIOCAP), Bolivia
-Video Presentation
-09:30 Initiatives and strategies for protection and self-protection
The generation of data as a strategy for the protection of defenders. Eva Hershaw, Land monitoring and database responsible, ILC Secretariat
CODECA's experience in the development of community self-protection strategies. Manuel Marroquín, Peasant Development Committee (CODECA), Guatemala
Contributions for the development of community self-protection strategies. Marta Esber, Plurales Foundation, Argentina
The role of the IACHR in the protection of land and environmental defenders. Commissioner Joel Hernández García, Rapporteur on Human Rights Defenders and Justice Operators - IACHR
Final remarks and reflection about the OHCHR role regarding protection of land and environmental defenders. Paula Berrutti, Human Rights Officer at the United Nations High Commissioner for Human Rights Regional Office for South America
DAY 3. LANDGRABBING IMPACT ON RURAL WOMEN: CHALLENGES IN TIMES OF PANDEMIC
-9:00 Panel presentation and moderation: Selmira Flores, Research and Development Institute NITLAPAN - UCA, Nicaragua
-9:10 Introductory presentation: Land grabbing and dispossession of territories in the region. Impact on indigenous and peasant population and challenges in times of pandemic. Francisco Cali, United Nations Special Rapporteur on the Rights of Indigenous People
-9:20 Presentation of studies and women testimonies
Argentina: Large land transactions, land use change and socio-environmental conflicts. Cristian Venencia, INENCO / National Salta University.
Testimony: Edith Martearena, Indigenous communicator of the FM Indigenous Voice and member of the group of Indigenous Women Environmental Defenders ARETEDE
Colombia: Palm expansion and impacts on rural women lives at Montes de María - Natalia Espinoza, Javeriana University.
Testimony: Inílida Ballestas, Solidarity Development Corporation (CDS).
Perú: Agribusiness and different forms of land grabbing in Santa Clara of Uchunya and Ucayali - Damaris Ruiz, Vice-president of the Native communities Federation of Ucayali and tributaries (FECONAU)
- Moderator's reflections about the presentations
-10:40 Exchange with participants
-Closing remarks
DAY 4. ARTICULATION FOR TRANSFORMATION: MULTI-STAKEHOLDER PLATFORMS FOR LAND GOVERNANCE
-09:00 Panel presentation and moderation: Zulema Burneo – Regional Coordinator International Land Coalition LAC
-Presentations
A common agenda for peacebuilding in Colombia. Javier Medina – Collaborative Strategy for the Guarantee of Land and Territory Rights (NES Colombia)
Promoting land governance through a multi-stakeholder approach in Nepal. Dharm Raj Joshi, Land governance group work (NES Nepal)
Regional alliance with territorial-political impact. The Salta Water panel and the Semi-arid Platform. Gabriel Seghezzo, Latin America Semiarid Platform
A journey to multi-stakeholder dialogue in uncertain times: an experience from South Africa. Laurel Oettle, LandNNES (NES South Africa)
-Comments
Marcela Villareal – Director of Partnerships Division FAO 
Yonas Mekonen – Global facilitator of National Engagement Strategies, ILC Secretariat
-Questions, answers and closing remarks
-Conclusions by the moderator
-10:45: Closing of Land Forum LAC 2020
-Closing remarks:
Tina Cambiaghi - Thematic and Global Policy Coordinator
Ismael Merlos - Representative of Regional Committee ILC LAC
- Reading of the ILC LAC Declaration