INEQUALITY IN LATIN AMERICA AND THE CARIBBEAN: IMPACT AND PROPOSALS FOR LAND GOVERNANCE
---
From October 13 to 16, the ILC LAC organizes the XI LAC Land Forum "Inequality in Latin America and the Caribbean: impact and proposals for Land Governance." The Forum is aimed at promoting the exchange of experiences and articulations to face the inequality characterizing the region, making it the most affected area in terms of inequality in land access worldwide.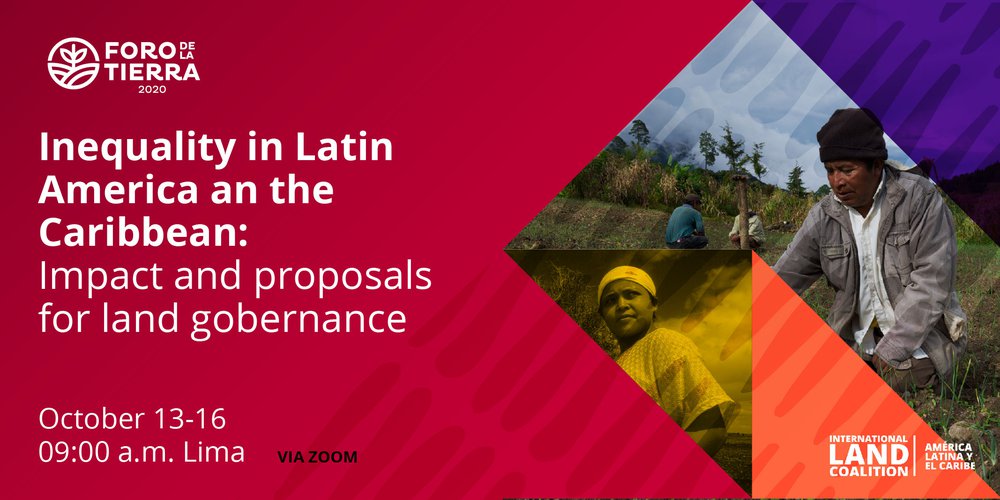 In addition to the historical inequality in land access, inequalities are also related to secure land tenure, the ability to decide on land use and benefits, and on natural resource management in the territory. These inequalities are exacerbated by gender and age distinctions in the most disadvantaged groups, leaving women and young people behind.
These inequalities trigger phenomena in the territories that put the region's democracies at risk, such as grabbing and plundering the land of peasant groups, indigenous peoples, and Afro-descendants, usually followed by conflicts and the infringement of human rights of land defenders.
There are concerns that countries will increase their extraction and agro-industrial activities in the post-pandemic context to reactivate their economies. Poor peasants are also likely to feel forced to sell their lands to survive the crisis generated by their decapitalization, the difficulties to obtain crop inputs and the lack of credit access. Social inequality could be worsened even more by this situation, aggravating the land grabbing process in the region.
The Land Forum will take these elements into account to promote the exchange of information and reflection on inequality and its impacts, as well as to discuss about alternatives and proposals to face them with the collective and articulated action of multiple stakeholders in four sessions.
WHO SHOULD PARTICIPATE IN THIS FORUM?
Organizations and institutions involved in land issues: public sector, civil society organizations (indigenous and/or peasant organizations, women's and youth organizations, NGOs, research centers), international organizations, among others.
DATE AND TIME
October 13-16
09:00 a.m. Lima, Quito, Bogota, and Panama City
10:00 a.m. La Paz
11:00 a.m. Buenos Aires, Montevideo, Asunción and Brasilia
8:00 a.m. Central America
LANGUAGES
Spanish and simultaneous interpretation to English an Portuguese.
To participate, you can sign up for one or more days. See all the information for each day below:
OCTOBER 16
DAY 4: ARTICULATING FOR TRANSFORMATION: MULTI-STAKEHOLDER PLATFORMS FOR LAND GOVERNANCE
CLOSING AND READING OF THE ILC ALC DECLARATION
INFORMATION AND REGISTRATION HERE